Krishna Pashmina Udhyog is one of Nepal first pashmina products manufacturers. It was founded in 1985. Since its inception, we have maintained a high level of uniqueness and quality standards.
Krishna Pashmina I the Genuine Pashmina Products Manufacturer. We've had a lot of success recognizing western tastes and manufacturing the best cashmere and pashmina products and accessories all over the world.
Chyangra Pashmina is the highest-quality cashmere in the world, manufactured from the distinctive fibres of Nepalese Himalayan Chyangra mountain goats. Chyangra Pashmina is inspired by Nepali culture and tradition and is manufactured utilizing environmentally sustainable and ethical handmade production processes. It is also known as the finest cashmere in the world. It is the most prized luxury fibre in the world, sourced from native Himalayan mountain goats known as "Chyangra" in Nepal and living at high altitudes exceeding 20,000 feet in the Himalayas. We are the Genuine Pashmina Products Manufacturer & Exporter.
To some, luxury entails living comfortably; to others, it entails wearing the highest quality clothing. Chyangra Pashmina is a genuine Nepalese product made from the finest inner wool of the Himalayan mountain goat. It adheres to strict quality standards, is environmentally sustainable. Chyangra Pashmina branded items are available to help the Nepalese economy expand responsibly.
In Nepal, the Chyangra Pashmina industry employs around 25,000 people, the vast majority of whom are women. Indigenous and international organisations are committed to upholding high animal husbandry standards, safeguarding local craft skills, and training in new technical and management capabilities. Increased manufacturing of genuine Chyangra Pashmina, a cornerstone of the local economy, is expected to improve the locals' quality of life in this region.
The trademark "Chyangra Pashmina" is presently registered in 47 countries, including the EU, the United States, Canada, Japan, Australia, New Zealand, Singapore, Taiwan, and many others, including Malaysia, Brazil, Russia, and China. Each tag or label has its own hologram as well as a unique tag number. To be granted permission to use the Chyangra Pashmina Trademark TAG or Label, we must agree to abide by the stringent criteria specified in the Nepal Government's Code of Conduct.
We frequently export our products to countries like Denmark, Norway, Finland, France, Italy, United Kingdom, Ireland, Switzerland, Australia, Japan, Thailand, Singapore, United Arab Emirates, Bahrain, the United States of America, Canada, Japan, India, Brazil, Israel, Spain, Germany, Kuwait, and many more. We are the pure pashmina products Exporter from Nepal. Krishna Pashmina is a 100% pure pashmina manufacturing company in Nepal.
The Mission of the Krishna Pashmina Udhyog is to be one of the world's Leading Pashmina Manufacturing and Exporting Company All Over World.
On the behalf of 'Krishna Pashmina Udhyog, we would like to offer you all our products at the most reasonable and competitive prices and at the same time maintain originality and quality standards too. We are Low price pashmina products manufacturer.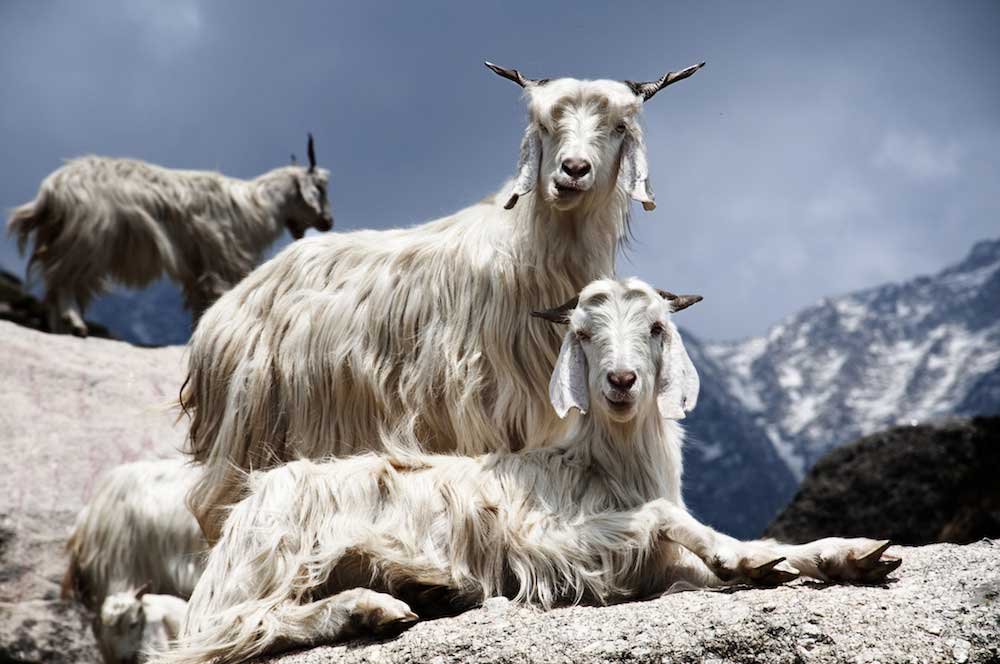 Krishna Pashmina is one of the Nepal first pashmina product manufacturers & Exporter, We wish to reassure all of our loyal clients that we guarantee the quality of all of our products and any finishing work that may be of interest to you. As a result, when you buy from us, you are buying straight from the factory and paying the lowest possible costs for genuine pashmina products.
Here's a rundown of some of the characteristics of a genuine Pashmina.